What challenges does the printer face in the food industry?
2021-11-16source:access:797
Food in our daily life is closely related to us. Its special requirements require the importance of food coding labels. Due to the differences in production environment and printing materials, it also poses a big problem for the printer industry. The main difficulties of coding technology are as follows:
Different materials are printed on different material surfaces for identification, and the packaging materials of beverages are various. For example, glass bottles, plastic bottles, laminated cartons, cans, and shrinkable plastic films are common packaging. For different materials, they can provide corresponding inkjet marking technology or laser marking technology solutions, coupled with a wide variety of inks, industrial inkjet printercan ensure the high-quality marking requirements on various materials.

Printing quality is obviously a concern for manufacturers. The inkjet coding printercontent requirements of the logo are complex and diverse. Numbers, words, pictograms, logos, etc. must be identified and matched with the packaging of the goods. If inkjet coding technology is used for marking, a series of nozzle models suitable for different requirements are needed, including small-character nozzles capable of obtaining extremely high marking quality.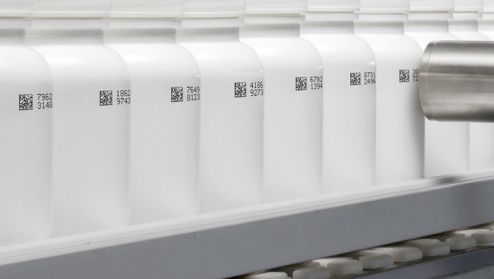 Suitable for severe production environment and strict hygienic requirements. When choosing continuous inkjet printer, beverage manufacturers must consider strict hygienic conditions and the shock absorption of the production line, so that the printer can always be used in harsh production environments. Keep up and running. And according to the characteristics of the food and beverage industry, it determines its special requirements for logos. Therefore, the provision of safe and reliable inks is also crucial.
CYCJET is a brand name of Yuchang Industrial Company Limited. As a manufacturer, CYCJET have more than ten years' experience for wholesaler and retailer of different types of handheld inkjet printing solution, Laser printing solution, portable marking solution in Shanghai China.
Contact Person: David Guo
Telephone: +86-21-59970419 ext 8008
MOB:+86-139 1763 1707(whatsapp)
Email: sales@cycjet.com
Web: www.cycjet.com
Keywords:
Video Link: