The new standard of Food package marking system-Laser Marking Machine/Laser Coding Machine
2021-06-30source:access:665
The state has been strengthening the supervision and inspection of the safety of food packaging information coding, which has made great changes in the food packaging industry. The CYCJET laser coding machine has been replace CIJ inkjet printer in food industry, laser marking is the best solution for the anti- counterfeiting , because the marking can not erase it by any chemical cleaner, so the counterfeiters can not copy it easy.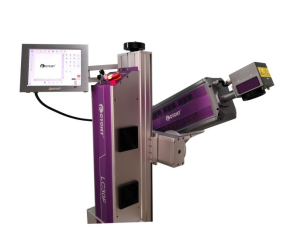 <<The China Green Food-Guideline on Packaging>> stipulates that the rules for green food package, include the package standard of packaging, packaging material, packaging size, packaging inspection, sampling, sign and labels, storage and transportation etc. Moreover, the food package laser marking machine can mark most of requirement of food package, such as manufacture date and batch no. Because the laser marking unique visual and tactile effects, can not erase, it also has strong anti-counterfeiting and anti fleeing characteristics. At present, it is mainly used for online code marking on the surface of various kinds of products or outer packages. Compared with the traditional stationary laser marking machine, the online laser marking machine can on the product constantly which running on the conveyor belt, the function improve the efficiency of production and makes the laser marker machine adapt to the requirements of food packaging.

In a word, regular or famous brand food has their special codes, the food package laser marker has the specific code setting for the marking, each character has the certain width and it has a checking function. At the same time, it also has the features of automatic recognition of different information and processing of graphic rotation changes. Bar code, production code, two-dimensional code, inspection qualification code, etc. are used to inspect the origin of food or the safety level and production address and date of food.
CYCJET is a brand name of Shanghai Yuchang Industrial Company Limited. As a manufacturer, CYCJET have more than ten years' experience for wholesaler and retailer of different types of handheld inkjet printing solution, Laser printing solution, portable marking solution in Shanghai China.
Contact Person: David Guo
Telephone: +86-21-59970419 ext 8008
MOB:+86-139 1763 1707(whatsapp)
Email: sales@cycjet.com
Keywords:
CYCJET Laser Coding Machine
Food package Laser Marking Machine
Food package Laser Marker
Video Link: