The application of laser marking machine in flavoring bottle
2021-07-28source:access:789
The flavorings material are widely used in our daily life, we have to use them when we cook the food. But some flavoring has some trouble in last few years, so the people pay attention to these material when buy it from the market, include Edible oil, soy sauce, vinegar etc. But some illegal business man produce the fake product, and normal consumer can not keep watch it. They changed the production date randomly, which bring the big risk to the consumer's health, also will harm the famous brand reputation.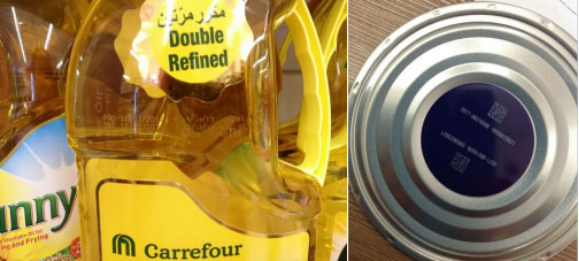 Due to the continuous improvement of food laws & regulations, laser marking on the seasoning bottles will become an indispensable part of the production process. Therefore, high-quality, clear and open identification is very important for manufacturers and consumers. The Flying laser marking machine will supply more options & guarantee for the people's safety.
The CYCJET lasermarking machineuse non-contact laser processing to solve the various disadvantages of traditional marking. The traditional marking processing is to use silk screen printing or stickers on the seasoning bottles. The labels can not stored for a long time and easy to wear away. It is not good for brand promotion and product information identification disclosure.
The China laser marking system has a wide range of applications, and can be used for marking on different materials, such as glass bottles, paper packaging, plastic bottle caps, metal cans, etc. It can be used to mark the information on the packaging design of seasoning bottles, including brand LOGO, security code, production date, production batch number, shelf life, regulatory barcode, QR code, etc.
The CYCJET Laser coding machine can mark perfect anti-counterfeiting code on the bottle, The bar code information is clear and beautiful, high temperature resistance, corrosion resistance, not easy to erase, and can be maintained for a long time. The manufacturer can trace each product by QR CODE through their traceability system, which can effectively strengthen the supervision of distribution and agents in various places, so that people can rest assured when buying spices.
CYCJET is a brand name of Shanghai Yuchang Industrial Company Limited. As a manufacturer, CYCJET have more than ten years' experience for wholesaler and retailer of different types of handheld inkjet printing solution, Laser printing solution, portable marking solution in Shanghai China.
Contact Person: David Guo
Telephone: +86-21-59970419 ext 8008
MOB:+86-139 1763 1707(whatsapp)
Email: sales@cycjet.com
Keywords:
Video Link: