The Benefits and Operating Instructions of Two-Dimensional Code Inkjet Printer Printing
2022-12-30source:access:916
QR code inkjet printer refers to the inkjet equipment used in product QR code printing. At present, the inkjet printers commonly used for coding two-dimensional codes include: laser marking machine, thermal foam inkjet printers, UV inkjet printers, etc. As a new information storage, transmission and identification technology, two-dimensional codes have been widely used in industrial production, two-dimensional code printing can make products or packaging have anti-counterfeiting, traceability, marketing and other functions.
The variable data two-dimensional code high-resolution UV inkjet printer independently developed by CYCJET can print various variable data in real time, including barcode, two-dimensional code, electronic supervision code, traceability code, anti-counterfeiting code, UDI code, date and time, shift group numbers, calculators, graphs, tables, databases, etc.
It is widely used in food, medicine, daily chemical, label printing, card making, packaging printing, medical, electronics, hardware and other industries, it can be used on aluminum plates, ceramic tiles, glass, wood, metal sheets, acrylic plates, plastics, leather and other flat materials, as well as bags, cartons and other products.
The benefits of two-dimensional code inkjet printer:

QR codes can endow products with functions such as anti-counterfeiting, anti-smuggling, and traceability. The anti-counterfeiting function of QR codes allows consumers to scan the codes to confirm the authenticity of products before purchasing and prevent counterfeiting; the two-dimensional code anti-smuggling function helps enterprises to easily complete the review work; the two-dimensional code traceability function can realize the traceability from the raw materials of the product, such as the procurement, storage, processing and production of product raw materials, the packaging of finished products, quality inspection and other whole process information at a glance.
The two-dimensional code UV inkjet printing machine combines the advantages of inkjet printing technology and ultraviolet curing technology. It has the convenience of inkjet technology and the efficiency advantage of adhesion curing. It can print high-definition, high-recognition rate QR codes on products, effectively helping enterprises to establish anti-counterfeiting traceability systems. Anti-counterfeiting and traceability code assignment methods mainly include offline code assignment and online code assignment. Enterprises assign codes online through QR code printers and print QR codes on products or outer packaging, which can improve data security and production efficiency.
The use of two-dimensional code online UV inkjet printers can not only help manufacturers solve the current problems of logistics monitoring and effective anti-counterfeiting of products, but also when the product is printed with a QR code, producers, consumers, and operators can scan the QR code to read the content information of the label, so that the product can be traced, the quality can be traced, and the development of the enterprise can be escorted.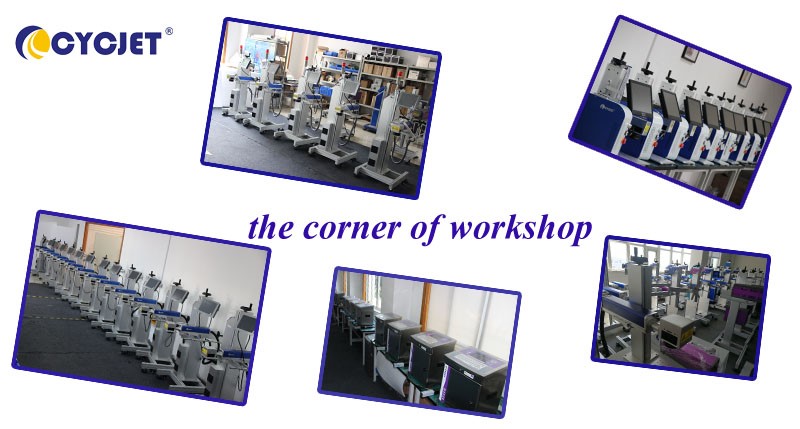 CYCJET is the brand name of Yuchang Industrial Company Limited. As a manufacturer, CYCJET have more than 16 years of experience for R& D different types of handheld inkjet printing solution, Laser printing solution, and portable marking solution, High Resolution Printing solution in Shanghai China.
Contact Person: David Guo
Telephone: +86-21-59970419 ext 8008
MOB:+86-139 1763 1707
Email: sales@cycjet.com
Web: https://cycjet.com/
Reference Video: https://youtu.be/yxieWQNJR0Q
Facebook: https://m.facebook.com/story.php?story_fbid=515562793923664&id=100064098422560
Linkedin: https://www.linkedin.com/feed/update/urn:li:activity:6998157579898032128
Tiktok: https:///www.tiktok.com/t/ZTRxkakpE/
Alibaba:
https://www.alibaba.com/product-detail/32mm-128mm-Pij-Inkjet-Machinery-Batch_1600618976261.html?spm=a2700.shop_plgr.41413.68.5642379fmyMB4y
Made-in-China:
https://cycjetlaser.en.made-in-china.com/product/UOmtRVwHgeru/China-Cycjet-High-Speed-Online-Alt500UV-Large-Character-Inkjet-Printer-for-Cloth-Label-Qr-Code-Barcode-Inkjet-Coding-Machine.html
Keywords :
High-resolution inkjet printer