Plastex 2022-CYCJET Together with you
2022-01-12source:access:294
Egypt International Exhibition for Plastics & Rubber Products for Export(Plastex 2022)
Date: Jan. 9 2022 – Jan 12 2022(09:30-17:00)
Location: Egypt International Exhibition Centre Cairo, Egypt
Hall:NO.2 Booth No. EPD-10
ABOUT PLASTEX 2022

The global plastics market volume stood at USD 586 billion in 2019 and is expected to register a compound annual growth rate of 5% by 2025, from which the MENA region market is estimated to reach over USD 80 billion by 2025, with Egypt holding a 17% share of MENA region's plastic market.
Egypt's international plastics exhibition, PLASTEX, now in its 18th edition, is an essential exhibition for established industry affiliates, as well as new firms targeting the Middle East and North Africa's ever growing exhibition markets.
Taking place from 9 - 12 January 2022, PLASTEX connects buyers from Egypt, Middle East and Africa regions with leading international and local manufacturers and distributors over 4 days providing an unprecedented opportunity for face-to-face interaction and networking to embark on new business ventures.

ABOUT CYCJET:
CYCJET shorted from China Shanghai Yuchang Industrial Co., Ltd. As a high-tech enterprise adheres to the concept of Smart Thinking, Smart Printing, and is committed to the development, production and sales smart inkjet coding & fly laser printing machine, and driving innovation, leading portable coding technology R &D,. We are constantly to launch different printer with latest coding and marking technology. Such as CH7 UV large Character Handheld Inkjet Printer, ALT500UV High Resolution & High speed Inkjet Printer, C700 Large character inkjet printer, B3020 High Speed Industrial Inkjet Printer, New LF30F Fly Laser Printer, LMP200F Mopa Fly Laser Coding Machine, etc…CYCJET bring more and more use value to different customer and factory, help more and more factory to improve production process & save the running cost with CYCJET Coding & Marking technology.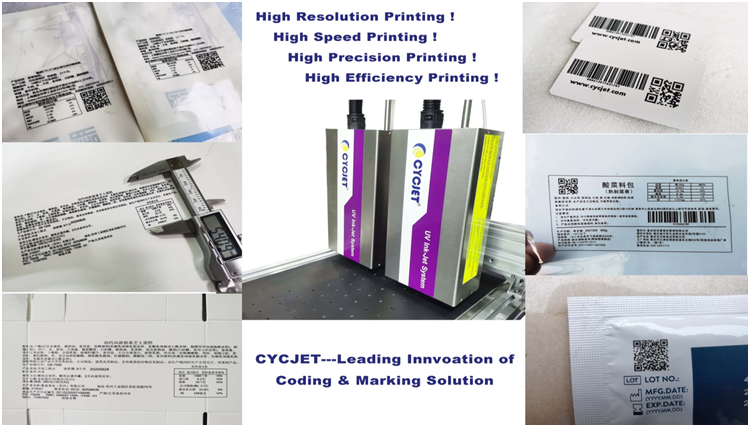 CYCJET people consistently adhering to the concept of "Smart Thinking Smart Printing" , with professional technology, top quality, personalized service, preferential prices to meet the needs of different users, and with new and old friends to work together, common development, sharing a win-win、experience efficient 、smart and portable marking solution!

Reference video:
Contact : David Guo
Tel: +86-21-59970419 ext 8008
Mobile:+86-139 1763 1707(Wechat)
Email: sales@cycjet.com
Website: http://www.cycjet.com/