Continuous inkjet printers (CIJ) are industrial coding systems used in a variety of environments, designed for industrial operations, CIJ printers can place barcodes, batch numbers, expiration dates and other important markings directly on products. CIJ printers achieve this through a non-contact printing method that enables continuous printing on porous and non-porous substrates, regardless of whether the surface is flat or curved.
一、The advantages of industrial inkjet printers are:
The continuous cycle process used by CIJ printers offers several advantages and is particularly suitable for industrial applications. At the same time, CIJ printers can meet:
1. High-speed printing
At its core, a continuous inkjet system produces a pressurized, continuous flow of ink. As a result, CIJ machines can print on substrates faster than many other printers. For a quick comparison, a regular CIJ printer can apply code to a product moving up to 1,000 feet per minute, while a thermal inkjet (TIJ) printer is typically limited to around 300 feet per minute. While some TIJ printers can print at speeds comparable to CIJ printers, they are not suitable for the 24/7 continuous operation that CIJ printers are designed for.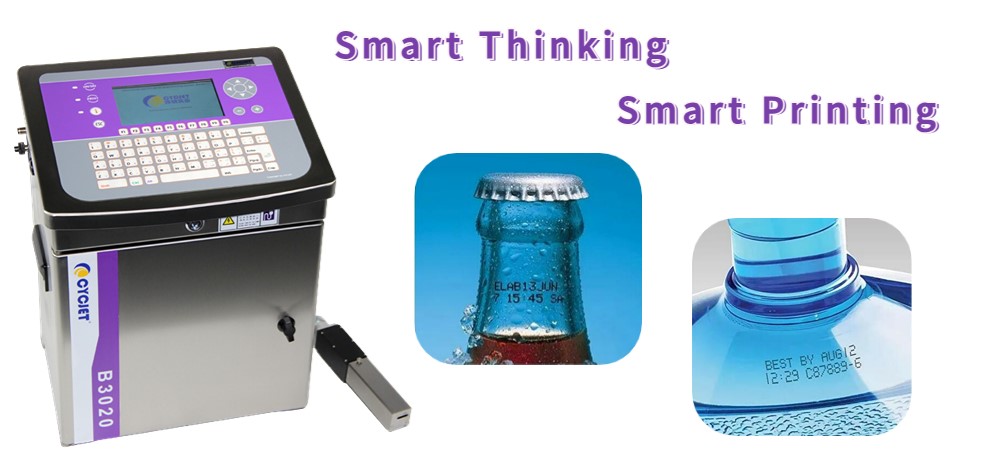 2. Reliable Coding
CIJ printers are most commonly used to place markings on products such as lot numbers, batch numbers, and expiration dates. These marks help ensure traceability, prevent material counterfeiting, and are often required by distribution channels. Failure to apply clear and legible codes may result in fines from the retailer and, in some cases, the manufacturer may be in violation of federal and/or state laws.
To avoid these problems, companies must ensure that their products are properly labeled in compliance with retailer requirements and government regulations. Even under the pressure of fast, continuous operation, CIJ inkjet printers reliably output crisp codes day after day. However, as with all industrial machinery, some maintenance is required to keep it running smoothly.
3.Easy to maintain
CIJ printers have very few moving parts, so most problems are easy to fix. Common problems are related to low-quality ink, clogged filters, or blocked ink flow, all of which can be avoided with simple routine maintenance.
4.Environmental resistance
The working principle and rugged construction of CIJ printers make them resistant to traditionally troublesome environmental factors. Unlike other printer types, continuous inkjet printers do not apply heat to the ink, making them more tolerant of higher production temperatures. Many CIJ printers have an operating temperature range of 40-100+° F. CYCJET's CIJ series of small character inkjet printers are constructed from modular stainless steel and feature an IP55 rating, further enhancing their ability to withstand environmental issues such as dust and humidity.
5.Multiple applications and multiple ink options
CIJ printers are compatible with a variety of ink options, making them suitable for a wide range of porous and non-porous substrates. The non-contact printing method used by CIJ printers can also print on flat and curved surfaces. As a result, CIJ printers can print on a variety of substrates, including: aluminum cans, glass bottles, rigid plastic cans, cardboard boxes and boxes, flexible packaging, wires and cables, and plastic PVC pipes. For more professional applications, CIJ printers can also use the following inks: high-temperature inks, non-transfer inks, soft pigment inks, hard pigment inks, alcohol-resistant inks, thermochromic inks, UV-readable inks.
二、Application of industrial continuous inkjet printer
The versatility and reliability of continuous inkjet printing systems have made them popular in many industries. Most notably, CIJ printers are used for coding in the following areas:
1. Food packaging
Food packaging, soft bags, cardboard boxes, metal cans and hard cases are just some of the many ways food manufacturers package their products for sale. The availability of different CIJ-compliant ink formulations enables those in the food industry to accurately label their products and avoid the harmful effects of ink migration.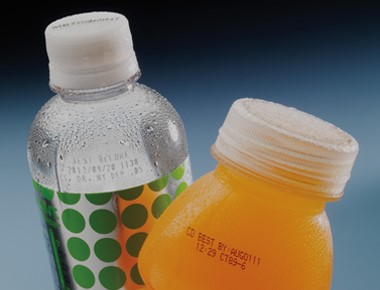 2. Beverage canning and bottling
Similar to food, canned and bottled beverages must display batch numbers, barcodes and expiration dates to comply with retailer requirements and regulations. Continuous inkjet printers are typically used to apply these marks because CIJ printheads can achieve a print distance of 1-3 inches to accommodate the curved surface of the package.
3. Personal care, cosmetics and pharmaceuticals
In fact, many products are not only subject to the Fair Packaging and Labeling Act, which applies to all consumer products, but they also qualify as over-the-counter (OTC) drugs, which means they need to display the FDA-required monograph. Products requiring FDA monograph include acne creams, antifungal sprays, antiperspirants, sunscreens, and more. Monographic elements, such as expiration dates and control numbers, are typically applied by a CIJ printer equipped with a 50-micron nozzle. The smaller nozzle size allows the printer to clearly apply these codes on limited bottle space. Prescription drug manufacturers also use online inkjet machines to meet FDA drug labeling guidelines.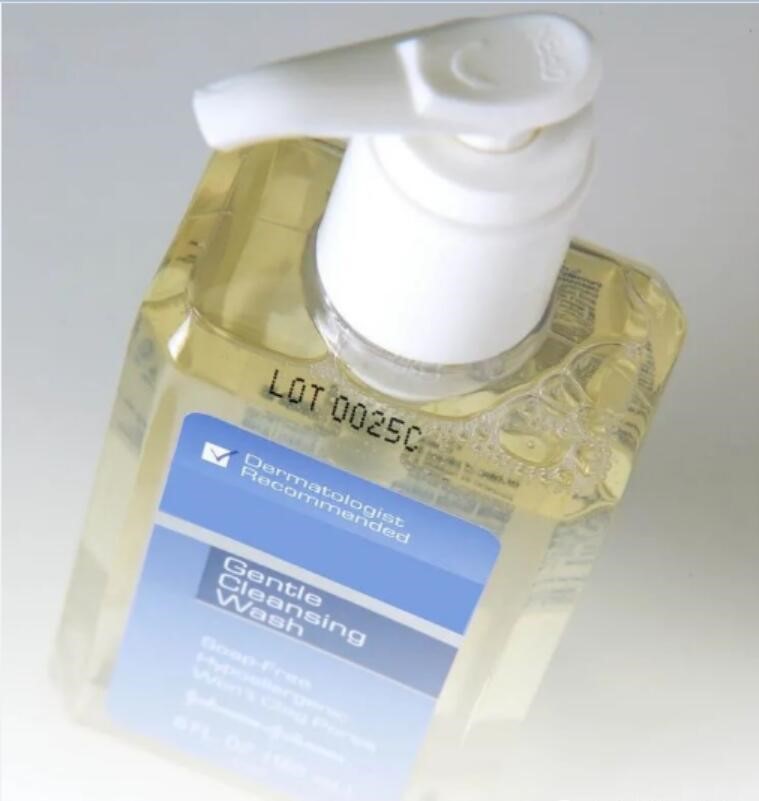 4.Wires and cables
Wire and cable are often produced on production lines that move hundreds of feet per minute. To meet these speeds, wire/cable manufacturers require the non-stop marking capabilities of industrial continuous inkjet printers. The CIJ printer's unique layout also allows for filter and fluid changes without downtime, allowing users to maximize uptime.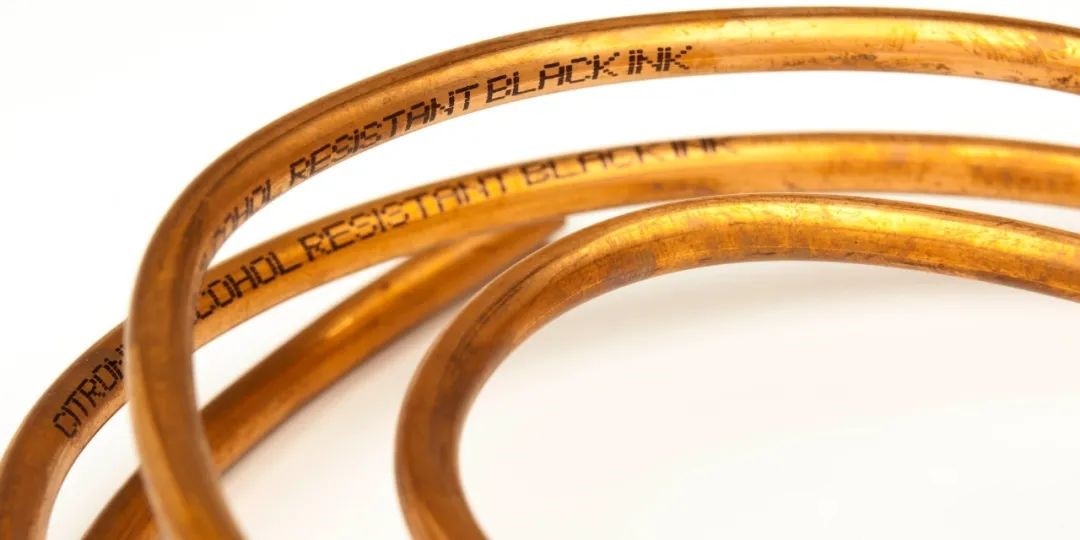 5. Plastic and metal extrusions
Like wire and cable, extrusions made from plastics and metals are produced on fast-moving production lines in facilities with harsh environments. Pipes are often coded with batch numbers or barcodes to enable traceability, communicate production data and prevent counterfeiting. CIJ printers ensure clear, timely application of these codes at fast production speeds. The extrusion line can be equipped with a CIJ printer with a 60/70-micron nozzle to print codes in a bold, highly visible font, ideal for materials with rough textured surfaces such as metal.
三、Working principle of inkjet printing machine
CIJ printers are designed for continuous 24/7 operation on industrial assembly lines, including those moving at speeds in excess of 1,000 feet per minute. The high-speed encoding of CIJ printers is achieved through a continuous flow of ink within the machine.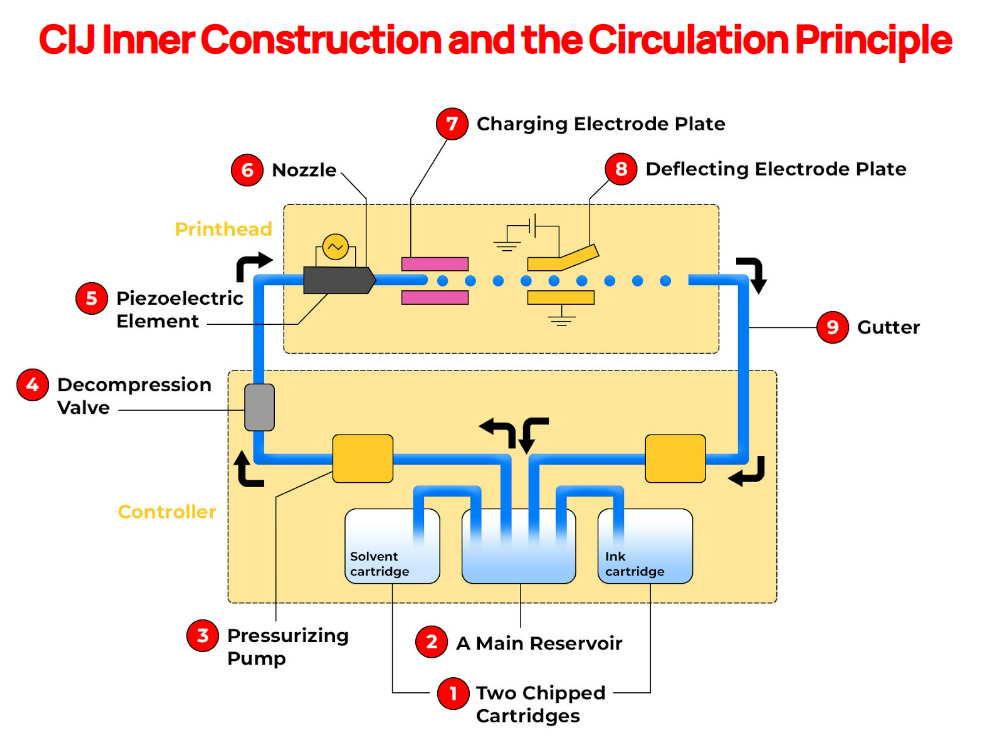 While the internal structure of a CIJ printer varies slightly depending on the model, the basic structural elements are constant and can be divided into two categories: the core (sometimes called the ink module) and the printhead.
The heart of the printing process is where the cycle begins. Inside the core are a series of valves and pumps that pressurize the ink, moving it through pipes or umbilical cords toward the printhead. The core area includes:
1.Two notched bottles: These two bottles provide the ink that will be used to print on the substrate. One cartridge contains the ink itself, while the other cartridge contains the solvent. The "chip" part refers to a small printed circuit board that ensures the correct ink replacement is delivered to the printer.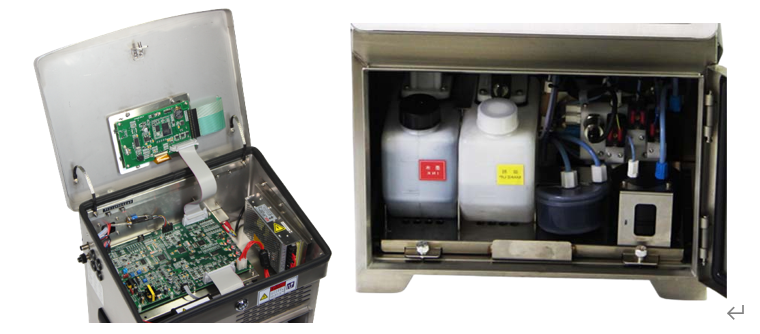 2. Main reservoir: Here, two notched bottles combine with each other to form a printable ink mixture.
3. Pressurization pump: Located near the main container, this pump pressurizes the ink mixture and sends it to the print head.
4. Pressure Reducing Valve: This is the last element in the controller. The pressure reducing valve regulates the ink pressure before the mixture reaches the print head.
5. Piezoelectric element: The piezoelectric element causes the ink flow to oscillate through vibration, causing the ink flow to form ink droplets.
6. Nozzle: The droplets reach the nozzle and are pushed towards the substrate.
7. Charging electrode plate: On the way from the nozzle to the substrate, the ink droplets are charged by the electrode. The charge enables the droplet to be guided to the next object.
8. Deflection electrode plate: The second electrode plate generates a magnetic field that differentiates which droplets should be pushed towards the substrate and which droplets should be redirected back to the main tank.
9. Drain: The drain collects unwanted ink particles and redirects them back to the ink tank, ensuring continuous ink flow.
Continuous inkjet printers are versatile workhorses that can print non-stop, day after day. Whether you're working with glass bottles, flexible food packaging or metal tubes, the high-speed printing capabilities of CIJ printers maximize your operation's uptime and coding accuracy. However, with the variety of CIJ models and ink formulations on the market today, it can be difficult to determine which printer and ink combination will best suit your needs. If you face this dilemma, CYCJET's team of experts can help.
With more than two decades of experience in ink development and printer sales, we have a detailed understanding of the challenges faced by different industries. We share this knowledge with every customer and can guide you to find the right printing solution for every operational need. To get a continuous inkjet printing system that's right for you, contact us today, tell us about your operation and we can find you the perfect match.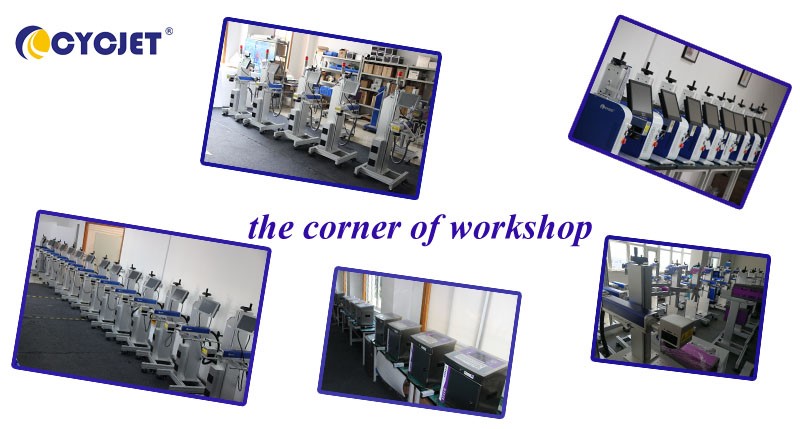 CYCJET is the brand name of Yuchang Industrial Company Limited. As a manufacturer, CYCJET have more than 19 years of experience for R& D different types of handheld inkjet printing solution, Laser printing solution, and portable marking solution, High Resolution Printing solution in Shanghai China.
Contact Person: David Guo
Telephone: +86-21-59970419 ext 8008
MOB:+86-139 1763 1707
Email: sales@cycjet.com
Web: https://cycjet.com/
Reference Video: https://youtube.com/shorts/IJkvNf_egNw
Facebook: https://www.facebook.com/100064098422560/videos/129465393136300
Linkedin: https://www.linkedin.com/feed/update/urn:li:activity:7036516913572651008
Alibaba:
https://www.alibaba.com/product-detail/Cycjet-Plastic-Package-Metal-Can-Small_1600281758499.html?spm=a2700.shop_plgr.41413.10.6db64df2cKhJBNhttps://www.linkedin.com/feed/update/urn:li:activity:7036516913572651008
Made-in-China:
https://cycjetlaser.en.made-in-china.com/product/EBpJbDhPmnAR/China-Cycjet-Small-Character-Inkjet-Printer-for-Expiry-Date-Printing-on-PE-Bag.html
Keywords :
Small character inkjet printer