How to Choose a Large Character Inkjet Printer
2022-08-25source:access:777
With the development of the times, the inkjet printer can be applied to the marking work of most products. The desktop inkjet printer adopts non-contact inkjet printing, which can cooperate with the assembly line for efficient production. However, some products cannot be mass-produced in the workshop and assembly line, and some products do not need batch identification. In this case, the inkjet printer industry has gradually derived the prototype of the handheld inkjet printer. Now that the technology of handheld inkjet printers has matured, I will introduce to you a handheld large character inkjet printer produced by Yuchang.
This equipment is light in structure, easy to carry, easy to print, edit information and play with mobile phones. Applicable occasions for large character handheld inkjet printers: used for large parts, heterosexual parts, and variable marking positions, and it is impossible to achieve streamlined production conditions. For example, spray printing is performed on the cement floor or walls of building open spaces, after the bridge is poured, and some items are sprayed separately. Today, I will share with you the product advantages of Yuchang large character inkjet printer.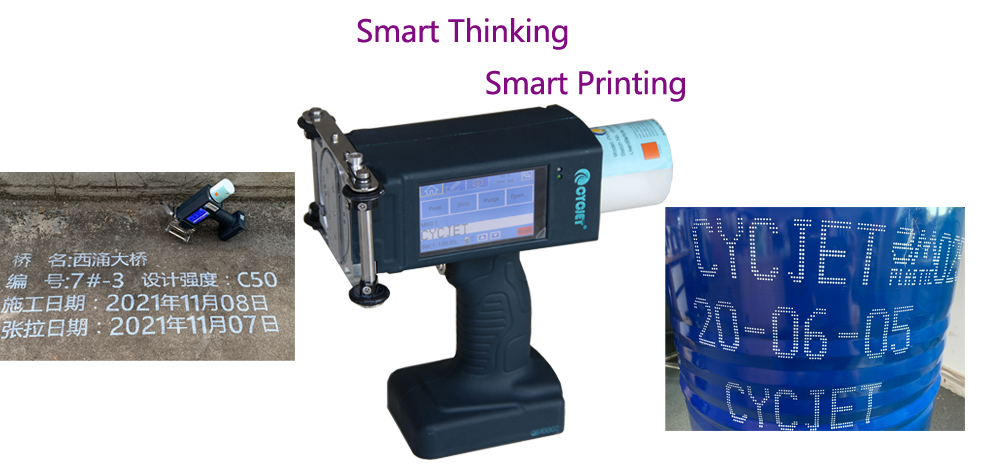 1. Light in size, light in integration, light in body weight.
2. The character height can be adjusted between 5MM-60MM.
3. Support Chinese, English, symbols and other common languages.
4. Equipped with cleaning function. To use the cleaning function, you need to unscrew the ink bottle, replace it with a cleaning bottle, and press the cleaning function to instantly discharge the ink in the print head and ink tube to achieve the purpose of cleaning the print head.
5. Separation of gas and liquid to ensure that the air path of the air pump is not blocked by ink.
6. Four-wheel design, can spray flat surface, arc surface, pipe wall, and any irregular surface.
7. The wheel base is adjustable, which can clamp pipes of different thickness and diameter.
Yuchang has been focusing on the inkjet printer industry for more than 15 years, and has developed a large-format UV series inkjet printer. The resolution is as high as 300-1200DPI, and the nozzle adopts an internal circulation system, which solves the problem of easy blockage of the nozzle. Yuchang inkjet printer is suitable for date, batch number, picture, QR code, variable content and other identification.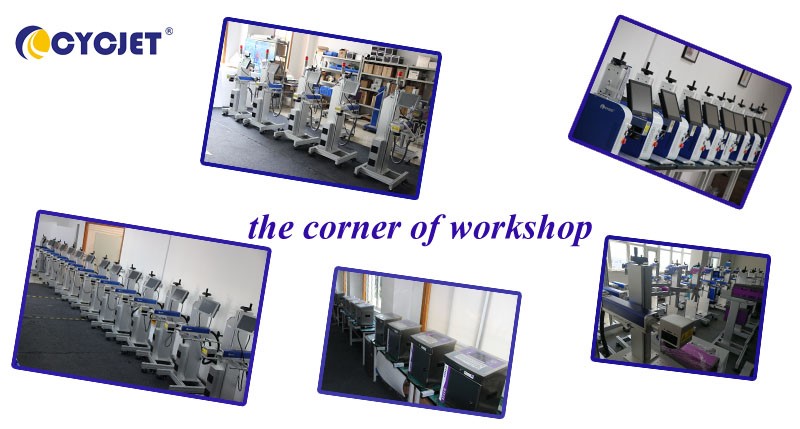 CYCJET is the brand name of Yuchang Industrial Company Limited. As a manufacturer, CYCJET have more than 16 years of experience for R& D different types of handheld inkjet printing solution, Laser printing solution, and portable marking solution, High Resolution Printing solution in Shanghai China.
Contact Person: David Guo
Telephone: +86-21-59970419 ext 8008
MOB:+86-139 1763 1707
Email: sales@cycjet.com
Keywords :
DOD large character inkjet printer
Portable handheld inkjet printer
High-resolution handjet printer
Working video: