CYCJET Launched the Latest Handheld Laser Marking Machine
2021-10-17source:access:544
Abstract: Portable fiber laser marking machine is also known as handheld fiber laser marking machine. It is designed to solve the problem of laser marking of existing large parts. The whole machine and the main computer box are small and convenient. It can be hand-held for operation and can be used for laser marking of large mechanical parts in any direction.

The Brief of CYCJET New Launched Hand Laser Marker:
The M20 handheld smart laser machine is smaller, smart, and portable with a well compact design, only hand held parts & control box with small size. It has a powerful 24V lithium battery power supply system that can fully and stably power the printer working! Normally, the power supply system can maintain the machine to work continuously for 6-8 hours with a stronger battery life. As no external electricity cable & wire, avoiding the embarrassment of sudden power failure during use, that's why tt is a real industrial grade wireless Hand-held laser marking machine.
M20 is powerful, sturdy and reliable. The weight of the whole machine is 6.00 kg, the handheld parts are only 1.25 kg. It is ergonomically designed, comfortable to hold and easy to operate. The device with color touch screen operation interface, Linux software, can easily and conveniently edit & print contents such as number, letter, logo, QR code, barcode, serial number, etc... In addition, this device is packed in a portable suitcase, which is convenient to carry and transport to different place. It is currently the smallest rechargeable laser marking machine on the market!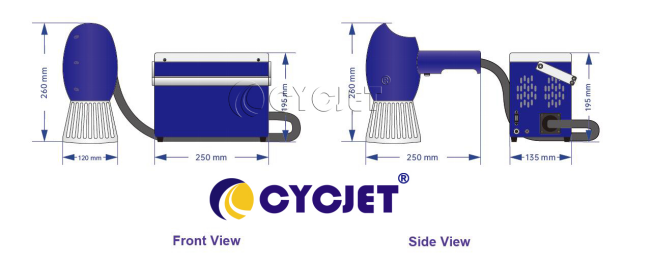 CYCJET Handheld Laser Marking Machine Application:
The hand-held fiber laser marking machine can process corporate logos, food packaging date text, mobile phone shell patterns, anti-counterfeiting codes, barcodes and other information. Hand-held processing is also convenient for marking large mechanical equipment or parts. Its laser marking The processing technology is very practical. The hand-held laser marking machine has a service life of up to 100,000 hours, and customers do not need to replace the equipment frequently, so that customers can save a lot of costs when using the hand-held laser marking machine for marking processing, and obtain big benefits with a small cost. Compared with various large-scale laser marking machines, portable laser marking machines can carry out portable printing. It is a marking device with the characteristics of lightness and simple operation. Therefore, portable laser marking machines are also called handheld laser marking machines. . The light weight and multi-functional software is especially suitable for perfect marking on large, heavy or difficult to move workpieces, available to fast marking contents on steel, plastic, wood, paper, stone and other materials.

CYCJET is the brand name of Yuchang Industrial Company Limited. As a manufacturer, CYCJET have more than 15 years of experience for R& D different types of handheld inkjet printing solution, Laser printing solution, and portable marking solution, High Resolution Printing solution in Shanghai China.
Contact Person: David Guo
Telephone: +86-21-59970419 ext 8008
MOB:+86-139 1763 1707
Email: sales@cycjet.com
Reference Video: https://youtu.be/AtFdg4VQ0kM
Facebook: http://facebook.com/davidguo09
Instagram: www.instagram.com/cycjet