Application of CYCJET industrial inkjet printer in medicine serialization identification
2019-12-04source:access:2706
Abstract: If a fault happens in a pharmaceutical product, it will be very dangerous. The wrong ingredients, incorrect doses or different drugs put the patient in an unfavorable situation. For the pharmaceutical manufacturer, it can also trigger a series of unnecessary consequences: litigation and reputation damage. This is why serialization of drugs, including kits, has been formally regulated by the EU. But as a pharmaceutical manufacturer, how do you deal with the challenges of these codes?
The World Health Organization estimates that illicit drugs account for about 15% of the world's total. The new regulations require that all medicine boxes be labeled with a unique QRcode (which must be easy to read) so that the product's supply chain can be easily manipulated to trace it back to the source of production in order to crack down on the black-market drug market and prevent its predictable risks.However, this is a major challenge for the production line, especially when the packaging and coding speed has become a crucial part of production, which is related to the bottom line of the production speed of the enterprise. High quality, compliance marks and speeds on the production line are indispensable.
CYCJET medical industrial inkjet printer is specially designed to meet the strict regulatory requirements of the medical industry. Even on low-cost carton materials, it can achieve the standard marking effect and enhance the advantages of medical industry, and surpass the competitors. CYCJET Online automatic packaging inkjet printers cater to different customers, different production lines and various types of coded materials.
1. Efficiency. CYCJET always has high concern of medical industry efficiency.
The medical industry is faced with the high-pressure demand for rapid product flow. The CYCJET portable inkjet printer guarantees high quality of the code even at higher speeds. Under such a premise, the production line speeds up by 20%, which can bring about a significant reduction in production costs. When a medical company runs multiple products that require rapid conversion at the same time, only such a production system can complete high-speed production under strict time schedule, and it is believed that the medical product code meets the requirements of various levels of regulations.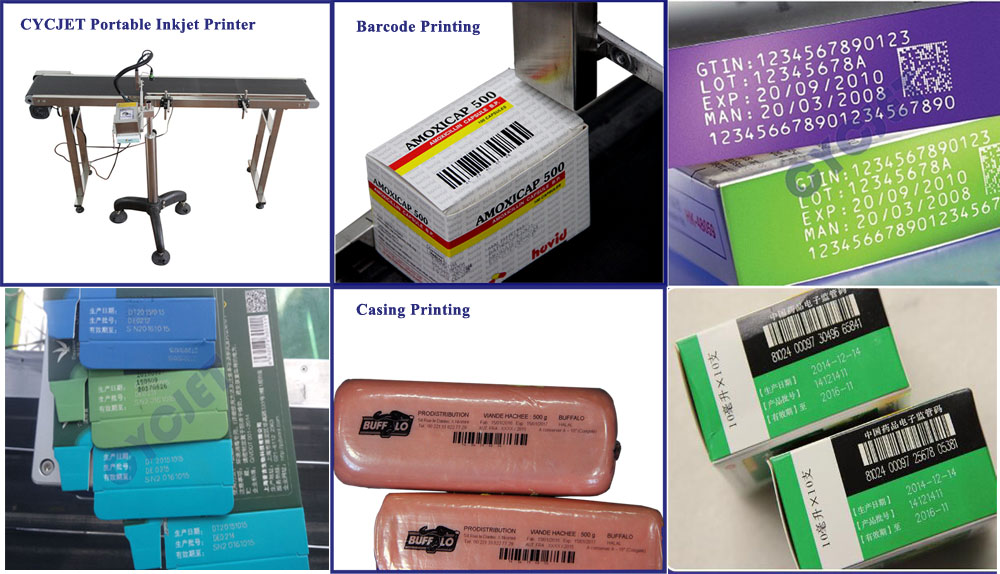 2. Different countries, different rules
Of course, different countries use different encoding formats. The CYCJET drug printer can meet these different requirements. Through simple setup and operation, CYCJET medical package inkjet printer can switch between unique identification codes of drugs in multiple formats. The CYCJET drug coding system can meet the ISO-1515 Class A standard marking quality for regulatory code-recognizable or human-readable requirements.
The compliance challenges facing the medical industry today are unprecedented. It is a very difficult task for medical companies to achieve serialized labeling on medical packaging and to continue the success of business operations. Among them, serialization and coding problems, with the professionalism and ability of CYCJET, medical companies can rely on CYCJET to solve.
CYCJET is the a brand name of Yuchang Industrial Company Limited. As a manufacturer, CYCJET have more than ten years experience for wholesaler and retailer of different types of handheld inkjet printing solution, Laser printing solution, portable marking solution in Shanghai China.
Keywords: CYCJET industrial inkjet printer
medical package inkjet printer
Online automatic packaging inkjet printers
CYCJET portable inkjet printer
medical industrial inkjet printer
Working video: http://youtu.be/EmrJw7ArIms
Contact Person: David Guo
Telephone: +86-21-59970419 ext 8008
MOB:+86-139 1763 1707
Email: sales@cycjet.com
Website: http://www.cycjet.com/