Application of CYCJET Laser Marking Machine in Wire and Cable Industry
2021-08-23source:access:2311
At present, the application of laser technology has penetrated into many fields of industry, and its excellent performance advantages are bringing new vitality to current industrial technology. With the popularization of laser technology, the advantages of laser marking machines have been gradually enlarged in the wire and cable industry. In particular, the emergence of related advanced laser marking equipment such as fiber laser marking machines has made the application advantages of laser marking in the wire and cable field more obvious.
Among the cable manufacturers of different sizes, the quality of the cables is also different due to reasons such as scale and technology. Then, how to develop their own products and create their own brands in the competition has become a concern of major manufacturers. The structural size of wire and cable products is usually small and uniform, so the manufacturing accuracy is higher. CYCJET laser marking machine, as an advanced laser marking equipment, has replaced traditional coding equipment due to its many advantages and has become the latest choice for wire and cable manufacturers.
In the past, the inkjet printers used in the wire and cable industry were only small character inkjet printers and white ink inkjet printers. Therefore, companies use a large number of ink consumables. Compared with inkjet printers, laser printers not only have no consumables but also have long-lasting printing effects and marks. Especially in the face of different colors, fine ground diameters, and different marking contents, automatic laser marking is used to mark the wires, which is more scientific and efficient. The cable laser marking machine uses laser technology to directly mark the desired logo on various wires and cables. The font can be set, beautiful, and generous. And the markings are clear and permanent and will not fade. The key is that it can withstand the test of the harsh outdoor environment.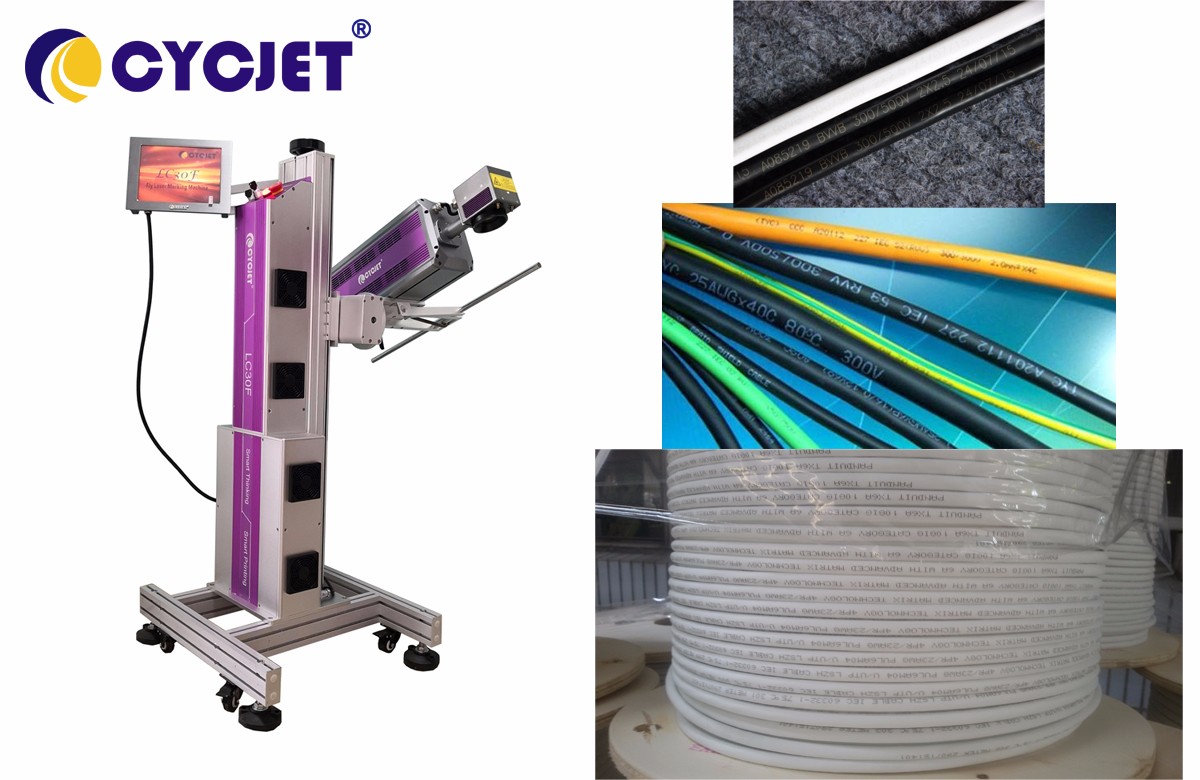 CYCJET laser marking machine has been widely recognized in the wire and cable industry by virtue of its advantages of zero consumables, high stability, beautiful marking, and permanent. The use of laser coding technology can effectively identify wire and cable products. It is often difficult to identify the brand or trademark from the appearance of the product. But it is possible to quickly identify genuine products by printing clear product specifications, factory names, and two-dimensional codes. Moreover, the mark is permanent, which can ensure that it is not easy to wear during transportation and storage.
Wire and cable laser marking machine is mainly used in various types of wire and cable coils such as wires, network cables, sealing tapes, and labels. Once the corresponding date, batch number, brand, serial number, two-dimensional code, and other information are marked on the wire and cable product, it cannot be changed. This is of great significance for the current anti-counterfeiting of wire and cable products. It can effectively resist the counterfeiting, fake and shoddy products of some illegal merchants, effectively regulate the current wire and cable market, and play an important role in improving the quality of wire and cable.
Laser marking machines are widely used in the wire and cable industry and are suitable for printing factory names, numbers, and other information on cable products of various specifications and sizes. It can not only meet the general marking requirements but also meet the clear and distinguishable marking requirements of wire and cable products. No matter when the raw material is extruded or when various cables are wound, the coding technology can be competent. Whether it is high-speed printing on the assembly line or on a separate pallet, the laser marking machine can print at different angles at any time, with a 360-degree printing angle. Regardless of whether the cable is round, bent, or strip-shaped, product information such as factory logo, specifications, and date can be marked on the bottom, side, and top.
In fact, in the cable industry, laser marking machines can be used to accurately mark the number of meters, so as to meet accurate meter counting. Because most export cables require meters to be marked, and the accuracy requirements are quite high. The CYCJET laser marking machine is easy to operate, accurate in meter counting, and stable in marking, which has been recognized by many domestic and foreign customers.
CYCJET is the brand name of Yuchang Industrial Company Limited. As a manufacturer, CYCJET has more than ten years of experience as a wholesaler and retailer of different types of handheld inkjet printing solutions, laser printing solutions, portable marking solutions in Shanghai China.
Contact Person: David Guo
Telephone: +86-21-59970419 ext 8008
MOB:+86-139 1763 1707
Email: sales@cycjet.com
Keywords:
High-speed laser marking machine
Fiber fly laser marking machine
Linked Videos: